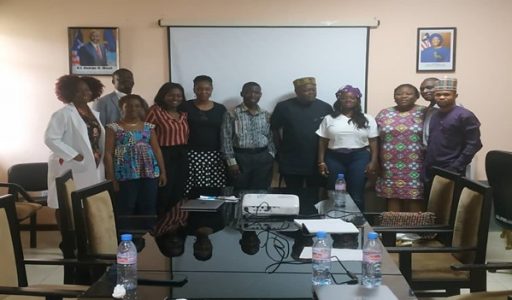 Author: Augustine Omodieke, Health Strategy and Delivery Foundation (HSDF)​
Over the past year, leadership from the John F. Kennedy Medical Centre (JFKMC) in Liberia and the Accelerator have been working together to strengthen the hospital's governance systems and management processes to improve the quality of care. The team identified a lack of requisite policies and guidelines to standardize processes across fiscal, supply chain management, and service delivery.
To address these gaps, the Accelerator provided support to an implementation team at JFKMC to develop, revise, and finalize policies and guidelines across different functional areas. The team also developed a code of conduct and human resource policy handbook to ensure better employee management and enhance productivity.
The Accelerator also developed the following guidelines and resources to standardize processes:
Quality of Care and Service Delivery
A Standard Operating Procedures (SOP) and guidelines for radiology (ultrasound and computed tomography scans), medical records, nursing, and operating theater; and protocols for clinical management of common conditions across several departments, patient complaints and grievance management, patient charter, and other resources
Financial Compliance and Audit Control Processes
Policies for finance and accounting, fixed asset management, IT security, revenue, grants management, and SOP for cash management committee and an audit charter.
Commodity Security
Procurement policy and guidelines for vendors, cold chain, inventory and warehousing; logistics management information system (LMIS); and dispensary management were developed to strengthen the hospital's procurement, logistics, and commodity management processes.
In December 2020, 13 of these tools were presented to the hospital's board and approved for dissemination. The Accelerator assisted the hospital in developing a modest budget for printing these policy documents, targeted at expediting its roll-out ahead of its 50th anniversary. The program is also working with the hospital implementation team to obtain the board's approval for the other finalized policies and guidelines ahead of the forthcoming anniversary.