Safe Blood Systems for Maternal Health
The Challenge
Postpartum hemorrhage (PPH), or excessive bleeding after childbirth, remains a leading cause of maternal mortality worldwide. Despite the significant progress made in skilled birth attendance and the availability of proven interventions for prevention and management of PPH, timely access to blood transfusions as an essential component of emergency obstetric care remains a challenge in settings where the national blood supply and safe blood systems are inadequate.
Opportunity
The Office of Maternal and Child Health and Nutrition (MCHN) within USAID's Bureau for Global Health is providing MCH core funds through two global health mechanisms—the Health Systems Strengthening Accelerator and Market Access and Innovative Financing (MAIF)—to develop and implement a program of work in Safe Blood in select countries. Specifically, the Accelerator and MAIF, in close collaboration with USAID Missions, will utilize the USAID Safe Blood Starter Kit (developed under the Advancing Postpartum Hemorrhage Care activity) in Liberia, Malawi, and Rwanda to help analyze existing blood systems, identify primary barriers/challenges to availability of safe blood for treatment of PPH and identify solutions/opportunities.
Key partnerships
The Accelerator will work with a range of government actors, private sector, civil society, development partners, and other key stakeholders to leverage existing investments and further reinforce multi-sectoral partnership
Our Work
In collaboration with USAID Missions, the Accelerator will support government representatives in Liberia, Malawi, and Rwanda on a systemic approach to safe blood—learning about country readiness and momentum for blood system reform as well as associated challenges and opportunities and creating the foundation for rolling out the USAID Safe Blood Starter Kit and future cross-country knowledge exchange. In each country, the program will work with stakeholders to establish a government-led Safe Blood Working group, or similar change team, to launch an assessment of barriers and opportunities utilizing the USAID Safe Blook Starter Kit. The Accelerator will provide technical assistance to analyze results from the assessment and other necessary data points to distill systemic barriers to safe blood supply, primarily for PPH management. Based on the findings, the program will provide technical assistance to the Safe Blood Working Groups to develop feasible costed action plans to improve access to safe blood. In addition, the program will organize and facilitate cross-country learning among the three countries in partnership with the USAID missions.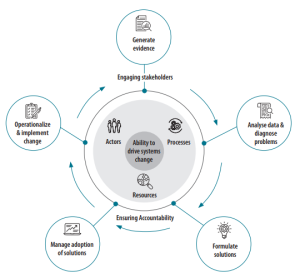 [In this article published in the Bulletin of the World Health...
Read More